Yoga and Pilates retreat in Andalucia, Spain.
October 5 - October 12, 2019 (Everyone welcome)
October 12 - October 19, 2019 Nurture and Develop for Pilates and yoga teachers
Reserve your space now! Booking opens in 2019
Join Bea and Liz in a peaceful Andalusian paradise, only 15 minutes from the beaches of Rincon and 20 minutes from Malaga Airport, Spain.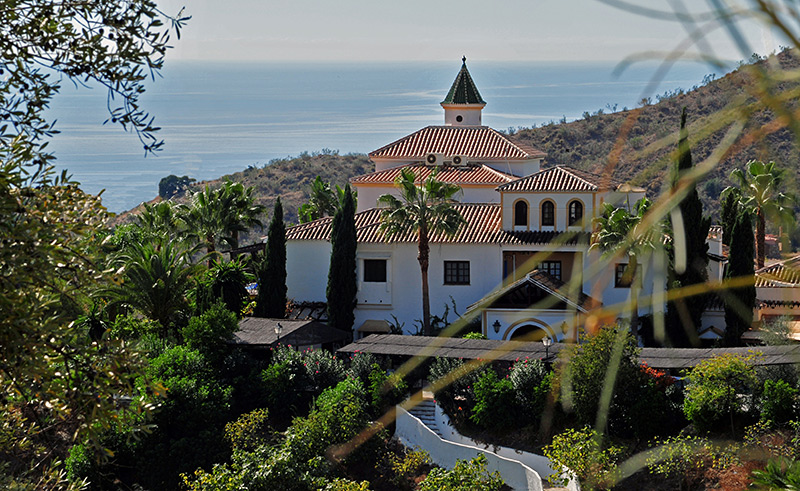 Centro Santillan Yoga and Wellness Centre is truly special and is set in a secluded location on an authentic Andalusian farm of 50,000 metres. It is located in the country side of Rincon de la Victoria, nestled in a Malaga hill and surrounded by the silence of mountains with wonderful sea views.

You will enjoy daily Yoga and Pilates classes with plenty of time to relax and unwind with opportunities to explore the surrounding areas – beaches, picturesque villages and local terrain.

Bea and Liz have 20 years of teaching experience each and together they have been running retreats in various locations for over 9 years. The yoga and Pilates combination has proved incredibly successful, influencing and deepening each practice.

The Venue
Centro Santillan is a beautiful Andalusian farmhouse with gardens overlooking the sea. With an impressive 20 bedrooms, courtyards, fountains, terraces, jacarandas, palms and pines it has even played host to the Dalai Lama. You can relax in the extensive gardens or by the saltwater pool or play a round of paddle tennis. The small corners and interior spaces make it an ideal venue for retreats and it boasts a gorgeous state of the art and fully equipped yoga studio, complete with yoga wall and sea views!

Santillan have standard rooms and suites all with en-suite bathrooms and a private outdoor space, either verandah or terrace, with lovely views. There is complimentary wi-fi.

The Climate
Andalusia is one of the warmest regions anywhere in Europe. It has a warm, Mediterranean climate with dry, hot summers and mild winters with infrequent precipitation

The Food
The retreat includes 3 meals a day:
The cooks at Santillan enjoy sharing their popular Spanish-influenced healthy Mediterranean cuisine, yet are also able to cater for vegetarian, vegan and raw diets and for genuine food allergies and intolerances, such as gluten-free and dairy-free. Meals are based on organic produce, from their gardens, fruit trees, herb garden and local farmers.

Still water, caffeinated or non-caffeinated coffee and teas are available 24hrs free of charge.
Complimentary soft drink, wine and beer at dinner on the arrival day and last day.
For soft drinks, beer and wine on other days, Satillan run an honesty bar at individually marked prices. Guests will settle their honesty bar bill on check out.
All other alcoholic beverages and individually prepared juices, smoothies or cocktails (alcoholic and non alcoholic) will be served at the bar and are chargeable to each guest on check out.

The schedule
From Sunday to Sunday: October 7h to October 14th, 2018
Arrival day is Sunday October 7th

Morning meditation and yoga practice led by Bea; we have two groups, depending on the experience of students. Late afternoon Pilates session led by Liz in beginners and intermediate groups.

Extras during the week: Stretch class on day of arrival for those arriving before 6pm, meditation special and Yoga Nidra. All optional but all inclusive!
Thursday will be a day off to have ample time to explore. Please note the day off may change depending on markets and local opening hours of excursions.
Departure day is Sunday 14 October (Breakfast will be served in the morning.)

The philosophy
We believe in the power and beauty of each practice and that interweaving the philosophy and principles of yoga, meditation and Pilates informs and heightens each one.

We feel strongly about providing individual attention to enable people to feel their practice has grown with their week of work.

We cater to all abilites, from complete beginners to advanced students and teahcers. We will nuture guide and challenge you within your appropriate ability and needs.
Our group's size averages between 16 and 22 people on a retreat, but we still ensure small class sizes. For the majority of the yoga classes and for all of the Pilates classes we divide the groups into two groups (slower paced and faster paced) . We will nuture, guide and challenge you within your appropriate ability and needs.

Extra attention is provided in the slower classes; both Bea and Liz assist each other so hands on corrections, adjustments and modifications that are needed, are easily attended to by having two teachers at hand. We have always had people highlight this as one of the strengths of our retreats.

"This was one of my best holidays ever. Liz and Bea are such wonderful persons and skilled teachers. Not only are they clear and precise on their teaching, but they are also able to work with people with disabilities and limitations. Three thumbs up!" Petteri Jokinen 2017

The activities

Relax, read, meditate and practice yoga and Pilates
Salt water pool
Paddle tennis - a complimentary court for guests to use
Treatments / Massages
Exploring
Hiking - Santillan has paths for hiking and further afield (for the brave) there is Caminito del Rey
Beach –7 km away (taxi to beach cost around 20 € each way - divided by number in car)
Visit nearby picturesque towns and villages or Malaga (30 mins by car for shopping and museums)

Andalusia is the home of beautiful cities, beaches and locales and if desired we can help you to arrange excursions further afield.

Nuture and Develop Week

This week is designed to invest back in yourself!
Enjoy being taught and recharge your batteries in beautiful surroundings, with time to relax.
Plenty of practice, new material, hands on, discussions and workshops to draw inspiration from to develop your own practice. Fuel your passion and uniqueness in a community of colleagues. Grow and learn with in your own teaching discipline, explore how another method can challenge you, compliment and contribute to your teaching skills.
* 5 day professional development certificate provided.

The prices

(please note prices are for week of 5/10 - 12/10/19, prices for the teachers Nuture and Develop week will be posted soon)

Twin £ 1233 per person (or the equivalent in Euros, check exchange rate)
Single £ 1478 (or the equivalent in Euros)

Please note the prices above reflect the charge for both standard and superior rooms. The main difference between room type is size, the rates are the same. We will allocate them on a first come first serve basis.

If you wish to book a twin but do not have someone to share with we can post here to let others know you wish to share. Please contact us for furher info.

Large luxury suites:

Twin Suite £ 1413 (or the equivalent in Euros)
Single Suite £ 1788 (or the equivalent in Euros) already reserved
Suites - king size bed, 2 basin bathroom and sitting area

There is a £30 (40 Euros) discount on these prices if booked before June 15th!


Included: Accommodation, 3 meals per day, unlimited water, teas and coffees and 5 to 6 days of Pilates, yoga and meditation tuition (depending on arrival and departure times.)


Not included: Flights, insurance and the airport transfer to and from Santillan which will be an added cost of around £50 each way (that is pick up for one person) However we will arrange the groups to be cost effective taking into account your flights so htat hopefully the cost can be shared between 2-4.

Contact us by email here, or phone in UK or Germany:

info@yoga-retreat.co.uk
Liz: 07980 158 028 (UK)
Bea: 0049(0) 176 76486 386 (Germany)

Travel info:

Still great flight offers, check kiwi.com or see below (updated 6.9.18)

There are direct flights to Malaga on Sautrdays from most UK airports (Bristol, London, Birmigham, Manchester, etc.) There are also direct flights from Berlin to Malaga on Saturdays.

" I challenge anyone to find a retreat with more care taken in the choice of venue, a higher standard of organisation and better quality of teaching- I will go on every retreat of Liz and Bea that I am able to attend."
Nikky Smedley, company director, 2014


Liz and Bea Yoga and Pilates Retreat received the Winning readers tip - best retreat and holiday, The Guardian 2009

CANCELLATION POLICY:

Cancellation of your holiday/retreat, for whatever reason, must be notified to Bea and Liz in writing by letter or email. Whilst we will endeavor to treat cancellations

sympathetically spaces are limited and the following applies: For cancellations made up to one month prior to departure 50% of monies received will be refunded. Cancellations less than one month in advance of the retreat no refund offered.

Exceptional circumstances are considered at the discretion of the organiser.

The cost of any airline ticket is the responsibility of the participant.

You must take out your own travel insurance.