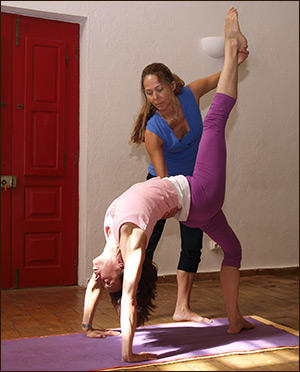 We met over 20 years ago at a dance class. Our passion for movement and mind body spirit develelopment ignited our long standing friendship. Over the years we have gone on to share skills from rock climbling, contact dance, circus skills and of course our passion for yoga and Pilates. In one instance many of our skills were combined in an aerial dance performance on a climbing wall in Sheffield! (see our biographies)
Our love of teaching, warm sunny places and of each other inspired the idea to run retreats together. We have now been running retreats since 2008 in Portugal, Turkey, Italy, Morocco and Spain.
On our past retreats we have catered both to the novice as well as to advanced practitioners and we have had both Pilates and yoga teachers as our guests. We aim to facilitate appropriate challenges and create a nurturing environment for deepening individuals personal practice and experience.
We also welcome non participating partners who want to come along for the holiday and company on all our retreats.
"I really enjoyed spending a week letting go of the cares and worries of the outside world. Tigmi provides the right environment and you provide the excellent teachingthat helos to push the boundaries for me." Sue, Tigmi 2016
All our retreats have an emphasis on a healthy and balanced diet that supports the bodywork during the week. Equally it should be a delight for the senses, so we make sure our catering is excellent wholesome cooking. Special diets can be catered for.

"The food was made with love and attention" Ginny
"Nutritious and delicious. I'd love to eat like this back home" Helen

Bea and Liz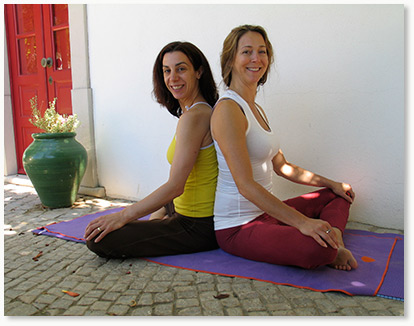 This is us in Quinta Mimosa, Portugal our first retreat venue.
About Bea

Bea originates from near Frankfurt and has been practising Yoga since 1994. She was led to it literally by following her nose; later defined as a Nag Champa incense. It was lit by Nigel Gilderson who became her first (Ashtanga) teacher. A trapeze artist at the time a yearning for inner peace and higher meaning was nurtured. 'Getting on the mat' offered a perfect balance and grounding for someone who spent a lot of time in the air!

Bea feels fortunate having practised with some great teachers from different Yoga traditions like John Scott, Alex Medin and Denise Christian from the Ashtanga tradition as well as the gentle yet powerful delights of Scaravelli Yoga through her teachers Giovanni Felicioni and John Stirk.

Bea credits Lisa Sanfillipo and Bridget Woods Kramer, London, to introducing her to Anusara Yoga. She took the Anusara Teacher Training and enjoys the combination of a creative heart focus and precise discipline in alignment, which in essence has much in common with Bea's previous career as a trapeze artist and theatre practitioner.

Bea has been teaching since 2002 and her London schedule included a wide spectrum from privates, group classes and Yoga at the work place for a London law firm.

In 2011 Bea moved back to her country of birth and she is currently teaching classes,workshops and Yoga teacher trainings in Berlin, where she also runs her own studio. http://www.beayogi.co/

Working with Liz is always a highlight in Bea's diary!

Certifications and intensives:

BWY Teaching Diploma 2006 500 hrs
Yoga Nidra Teacher, Swami Satyaprakash 2007

Pregnancy Teaching Diploma British Wheel 2008

Teaching Meditation with Swami Saradananda 2006-10

Anusara Immersion 100hrs with Ross Raeburn, Zhenja la Rosa, Jayendra Henley and Bridget Kramer-Woods. 2010

Anusara teacher training with Bridget Kramer-Woods and Jayendra Henley.2010,2011. 200 hrs

Member of The British Wheel of Yoga and

BdY Bund der Yogalehrenden in Deutschland e.V.

Yoga Teacher Trainer at Campus Naturalis, Berlin

Pilates mat trainer, certified with aeronet in 2016, Berlin

About Liz

Originally from California, Liz Chandler came to Pilates from a professional contemporary dance background. With a BA in Dance from the University of California (UCLA) she went on to perform professionally with companies in both the US and the UK. She has taught and lectured in dance for 16 years including; Bath City College and the University of Bath, England. Liz was head of fitness at Circomedia, Centre for Circus and Performing Arts for 11 years. She has been teaching Pilates for over 13 years having trained with both Body Control Pilates and with Suzanne Scott and the Pilates Foundation.

Liz is a Pilates educator. Known as a teahcers teacher she develops and presents continuing education workshops around the UK. She presents at conferences for the Pilates Foundation UK, Australian Physiotherapy and Pilates Institute and IPTA.

Liz is passionate about learning and continues with her own trianing in Pilates, yoga, anatomy and movmenet development yearly in the US and UK. These include teachers such as Marie-Jose Blom, Tom Myers, Madeline Black. Emilie Conrad, etc, and most rencently completed Gary Ward's AiM Course .

She presently teaches Pilates at her studios Pure Moves, Frome, She taught at The Scott Studios, Castle Cary for eight years and has worked for Bath Rugby teaching Pilates to premier players for both performance enhancement and rehab settings.