Puglia, Italy Saturday April 27th to May 4th 2019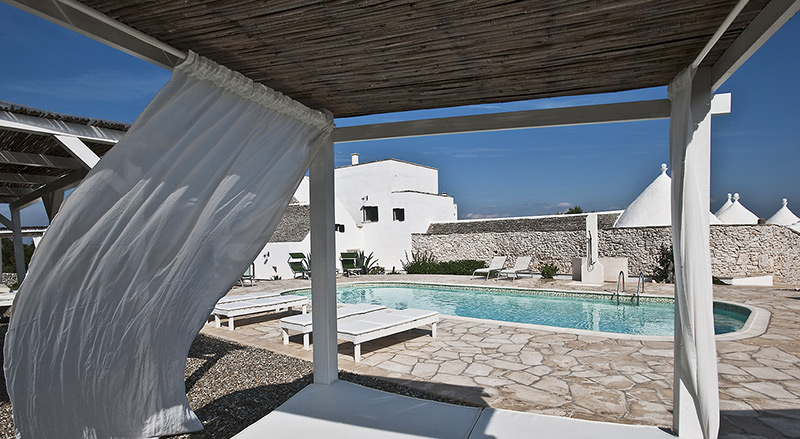 We are very excited to be running our next retreat at La Rosa Dei 4 Venti, Puglia Italy. We had to book two years in advance for this week as it is such a popular venue for Yoga and other movement and like-minded philosophical retreats.

You will enjoy daily Yoga and Pilates classes with plenty of time to relax and unwind with opportunities to explore the beautiful surroundings.

Bea and Liz have 20 years of teaching experience each and together they have been running retreats in various locations for over 10 years. The yoga and Pilates combination has proved incredibly successful, influencing and deepening each practice.

The Venue

"Accommodation on a hillside in Puglia's Itria Valley, surrounded by flower filled meadows, ancient oaks and olive trees, Santa Maria del Sole (St Mary of the Sun), originally a monastery, then a farmhouse is now a sanctuary dedicated to yoga and meditation. With its cluster of trulli (that give this region its distinctive fairytale appearance), tiny white chapel, generous pool and indoor and outdoor yoga studios, it is in short a scrap of heaven fallen into Italy's notoriously un-angelic heel" (The Guardian: Healthy holidays)

On top of all that within their 14 acres is also a woodland with a meditation path. There are many places to seek out personal space, peace and quiet.

Their Ethos

To quote La Rosa's Dei 4 Venti: The intention is to create a healthy, positive and regenerating environment from every point of view: through the special energy of our land; through the silences and spaces that the place offers, through the food philosophy based on the rebalancing of the alkaline PH of the body, through a careful, sensitive approach, available to anyone who is welcomed by all of us, because we firmly believe that kindness and gentleness are not forms of weakness, but of strength.

The Food

3 meals a day. Throughout the week the menu will include vegetarian and fish options (vegans will always be catered for)
wine is served with the evening meal
tea, water, fruit and cakes available all day

La Rosa dei 4 Venti feel the food you eat is as important your mind body movement practices..
Their cuisine follows the ph alkaline diet philosophy whose goal is to bring back to balance our organism through a healthy diet reducing infalmmation in the body, by including organic local produce with low gluten, little dairy and wheat free.

They serve fresh and seasonal products from their garden; they produce their own goat cheese and milk and they make their own bread, pastries and pastas with spelt flour or no gluten flour like buckwheat.

Their dishes are from the Italian tradition but with a healthy twist of introducing some raw dishes at lunch and superfoods in their recipes.

You won't miss the Italian cuisine, you will simply taste it in a healthier way!!


Places of interest close by

Martina Franca and its unique genteel historic centre, one of the finest in Apulia, meandering lanes and baroque and rococo buildings (10 mins.)
Alberobellow, with the Zona dei Trulli, classified a Unesco Heritage site (20 mins)
Locorotondo, is one of the most beautiful towns in Italy sitting atop a small hill surrounded by vineyards (15 mins)
Matera, Unesco heritage site, famous Sassi, the rock churches and cave house inhabited since Paleolithic Age.
Ostuni, "the white town" draped across three hills, faces the beautiful coasts of the Adriatic Sea (45 mins)
Polignano a Mare, a pearl positioned on a steep sea cliff dotted with grottos along the Adriatic coast of Puglia (35mins)
Beaches Adriatic coast (1 hr) and Ionic coast (1 hr 30min)

The Yoga and Pilates

Liz and Bea believe in the power and beauty of each practice and that interweaving the philosophy and principles of yoga, meditation and Pilates informs and heightens each one.

We feel strongly about providing individual attention to enable people to feel their practice has grown with their week of work.

We cater to all abilites, from complete beginners to advanced students and teahcers. We will nuture guide and challenge you within your appropriate ability and needs.
Our group's size averages between 16 and 22 people on a retreat, but we still ensure small class sizes. For the majority of the yoga classes and for all of the Pilates classes we divide the groups into two groups (slower paced and faster paced) . We will nuture, guide and challenge you within your appropriate ability and needs.

Extra attention is provided in the slower classes; both Bea and Liz assist each other so hands on corrections, adjustments and modifications that are needed, are easily attended to by having two teachers at hand. We have always had people highlight this as one of the strengths of our retreats.

"This was one of my best holidays ever. Liz and Bea are such wonderful persons and skilled teachers. Not only are they clear and precise on their teaching, but they are also able to work with people with disabilities and limitations. Three thumbs up!" Petteri Jokinen 2017

What your day/week will look like

From Saturday to Saturday: 27.4.19 to 4.5.19
Arrival day is Saturday 27.4.19

Morning meditation and yoga practice led by Bea;

Late afternoon Pilates session led by Liz.

Extras during the week: Meditation special and Yoga Nidra. All optional but all inclusive!
Wednesday will be a day off to have ample time to explore. Please note the day off may change depending on markets and local opening hours of excursions. La Rosa will be happy to give you recommendaion of local restaurants to explore but dinner is included on the day off, so its up to you f you stay and rest or want ot go out.

Check in from 16:00

Departure day is Saturday 4.5.19 (Breakfast will be served in the morning.)

Checkout: 10:00

The prices

Triple £985
Twins £1220 per person
Double £1220 per person
Single £1590

There is a £30 (40 Euros) discount on these prices for people booking last minute one month prior to retreat.

Please note that if no sharer for twin or triple can be found the room will be charged at the actual occupancy.

Travel Info:

Closest airports:
Brindisi 55 mins away
Bari 1hr 30 away

For flights check http://www.kiwi.com, if there are no direct flights from your airport.

You can hire your own car if you would like to be independent and explore the beautiful area. Nearest village Martina Franca is 15 min by car .

Shuttle service pick up is possible from both Bari and Brindisi, cost varies depending on numbers of people sharing.

We try our best to arrange shared transfers around peoples flights to minimise your cost

Click the link below for a map of the area

https://goo.gl/maps/DivCHwwUCRB2


Whats included:

Accommodation,3 meals per day, wine with dinner, teas and water, and 5 to 6 days of Pilates, yoga and meditation tuition (depending on arrival and departure times.)

Not included:

Flights, insurance and the airport transfer to and from La Rosas which will be an added cost as above. However we will arrange the groups to be cost effective taking into account your flights so htat hopefully the cost can be shared.

Contact us

by email, or phone in UK or Germany:

info@yoga-retreat.co.uk
Liz: 07980 158 028 (UK)
Bea: 0049(0) 176 76486 386 (Germany)

" I challenge anyone to find a retreat with more care taken in the choice of venue, a higher standard of organisation and better quality of teaching- I will go on every retreat of Liz and Bea that I am able to attend."
Nikky Smedley, company director, 2014


Liz and Bea Yoga and Pilates Retreat received the Winning readers tip - best retreat and holiday, The Guardian 2009

CANCELLATION POLICY:

Cancellation of your holiday/retreat, for whatever reason, must be notified to Bea and Liz in writing by letter or email. Whilst we will endeavor to treat cancellations sympathetically spaces are limited and the following applies:

For cancellations made up to one month prior to departure 50% of monies received will be refunded. Cancellations less than one month in advance of the retreat no refund offered.

Exceptional circumstances are considered at the discretion of the organiser.

In case of an emergency where either Liz or Bea cannot travel, we will assign a senior teacher in her place (this is highly unlikely).

The cost of any airline ticket is the responsibility of the participant.

You must take out your own travel insurance.