Welcome
Yoga & Pilates Retreats are Bea Fritzsching, yoga teacher and Liz Chandler, Pilates teacher. Together we organise yoga/Pilates retreats and holidays in carefully chosen unique locations to create a memorable experience for you!
Next up:
Morocco 1-8 May 2021 (Saturday to Saturday)
The date has changed (only possible option at the moment) due to the current travel restrictions and we hope that we can say in a month time if this retreat will be able to take place in Morocco.
Booking open
' I give this retreat my highest possible recommendation – it's really changed my approach to meditation and yoga, and it was a wonderful place to relax and recouperate. Thanks so much Bea and Liz!! 'Gina, 2019 retreat
" I challenge anyone to find a retreat with more care taken in the choice of venue, a higher standard of organisation and better quality of teaching- I will go on every retreat of Liz and Bea that I am able to attend." Nikky 2018 retreat
"The body control and precision of Pilates brings awareness to Yoga and Yoga brings 'soul 'to Pilates." Paul - 2009 retreat
"Thank you both for a wonderful experience. Everything was wonderful: the food, the setting, the weather, the company but above all, your dedicated and inspiring teaching." Edith - 2010 retreat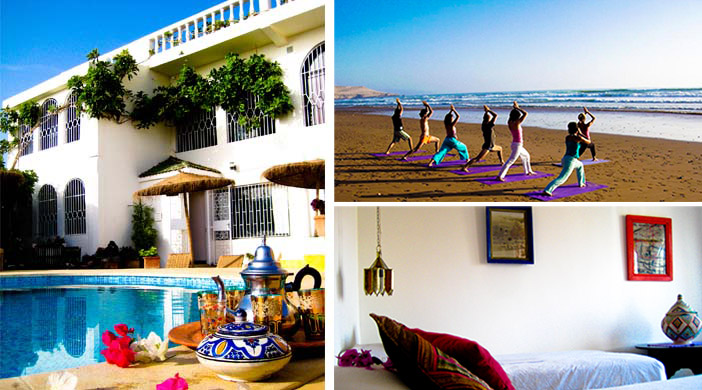 Please explore our site, look at some of the photos from previous locations and read what some of our visitors have had to say about us.

Next up Morocco (near Marrackesh) 10-17 April 2021

"Really appreciated individual adjustments and the way both Yoga and Pilates built up as the week went on. Enjoyed the 'themes' for each day" Mary - 2008 retreat

One of our previous retreats was voted Winning readers tip - best retreat and holiday, in The Guardian